We SARJEET ELECTRIC WORKS (SEW) are expert in Repair & Rewinding of Large Capacity HT/LT Motors, A.C./D.C. Generators & Transformers. We are committed to meet the expectation of our customers by offering them best repairing facility with precise and accurate results. Our services are available at an affordable cost with improved performance.

We have authorised service centers of Kirloskar Electric Company Ltd. & Leroy Somer Electric Power Generation India. Our quality management system is as per ISO 9001 : 2008 standards and we aim to continually improve and make it more effective. We have a vast and comprehensive range of repairing and testing instruments. Our high tech instruments enable us to repair the machines in an efficient and cost effective manner.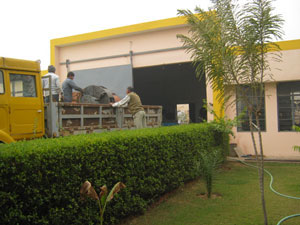 Welcome:
Thank you for visiting SARJEET ELECTRIC WORKS (SEW) web site. Our goal here is to serve you, so please feel free to explore our site. Our contact information is available at the bottom of each page in case you have any questions or would like more information.
Our Mission Statement:
To be the best electrical machines (Industrial heavy duty Motors, Alternators, Transformers etc.) repair and refurbishment service provider as perceived by everyone in the markets that we serve.

Company Profile:
1989 - Established company to provide Electrical Machines repair and remanufacture services to regionally based electric utilities. :
1995 - Broadened our product scope to include Regulator and Recloser repair and expanded our facilities to accommodate industrial customers.
1997 - Added a new facility to service large equipment.
1999 - Added a new 3,000 square foot state for the art of Alternator Rotor Main Field Pole winding machine & Latest Computerized Dynamic balancing.

We are the leading independent Repair & Rewinding provider of Large Capacity HT/LT Motors, A.C./D.C. Generators & Transformers in the North India.

Expert in:
Repair & Rewinding
Large Capacity HT/LT Motors
A.C /D.C. Generators &
Transformers

Works & Off:
Sector- 26, Garhi Bolni Road,
P.O. majra Gurdas.
Distt. Rewari-123401 Hr. (India)
Telefax : 01274-261378

E-mail : sarjeetelectric@rediffmail.com